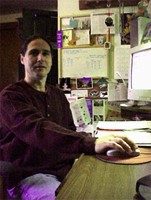 Reed Mitchell, founder, president, and self-employee of Harbour Consulting Group.
How the Business Works
The company is very locally oriented. Mr. Mitchell works with one customer at a time and stays until he finishes the tasks they want done. He will stay with a company anywhere from a couple of months to a year. Most of his customers have been from the Philadelphia or Allentown area. He does not work with computer hardware, just the programs. He advertises occasionally in local newspapers. There are no set hours for his job, but there are many times when working overtime is necessary. The business is not currently anywhere else or on the Internet, but that may change.