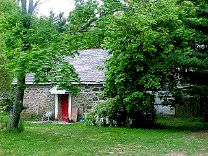 John Fries' Historic House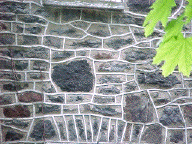 Fries' Stonework
A U.S. marshal ordered the arrest of several leaders of the tax rebellion. The people in Bucks County decided to rescue the prisoners, with John Fries as their captain. Fries enlisted 140 armed men. He succeeded in rescuing the prisoners held in Bethlehem,PA.
The federal government sent troops to arrest the leaders of Fries' Rebellion and ordered them to be taken to trial as traitors. Fries had tried running from them, but was later captured. He was tried and found guilty of treason. He was given another trial and again was found guilty. Fries was sentenced to death. But, luckily he was saved when President Adams granted all those who had participated in the rebellion a presidential pardon.
John Fries returned to his hometown, continued his quiet life as a vendue cryer, and died as poor man in February,1818.