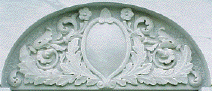 What We Learned Today
A gravestone often indicates the wealth of the family.The wealthy families often have larger, more decorative headstones or markers. Some of the children have lambs and angels on their stones.They also have smaller stones.
Some families have a monument with their last name,and then smaller stones around it with the initial of their last name to mark the corners of the family plot.
We learned that a mausoleum is when a family is buried above ground so the coffins won't get wet.
Sometimes the shape of the headstones indicates a relationship in the family such as siblings or a married couple.
| | | | | | |
| --- | --- | --- | --- | --- | --- |
| HOME | MONUMENTS | TOMBSTONES | | | GRAPH |