Pennridge Wastewater Treatment Authority

PERKASIE SEWER COMPANY HISTORY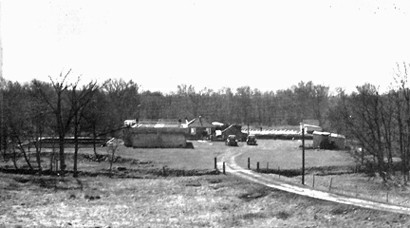 In April 1908, permission was granted to Mahlon Keller and P.S. Cressman to build , equip and operate a sewer system in the Borough of Perkasie. Mr. Cressman took over the entire operation in 1908-09 and built sewers in several streets of the borough. Mr. Cressman, owner of the American House, needed to dispose of the sewage from the American House Hotel that he owned at Seventh & Market Streets; the first sewer line was built on Market Street. The sewage was carried by pipes to a large cesspool at Chestnut Street near the East Branch of the Perkiomen Creek (where Kulp playground is located today). With no purification, by 1910 the State Board of Health required the construction of a disposal plant at the present Sellersville location. A trunk sewer of 12" and 15" sewer pipe of approximately 10,000' was built from Second and Race Streets to the Sellersvile plant next to the creek. This 1911 plant was completely rebuilt in 1922 switching from a contact bed type to a sprinkling filter type and a capacity of 600,000 gallons each day. The Perkasie Sewer Company was incorporated on July 13, 1911, but did not operate until the early 1914. Prior to this time Mr. Cressman operated the company as an individual. By 1929 the company owned and operated the disposal plant and the sanitary sewers in Perkasie and disposed of the sewage for both Perkasie and Sellersville. Extensive additions were added in 1936, and other additions were added to accommodate the growing community. By 1954 the sewer company was one of the few private sewer companies remaining in Pennsylvania.
In 1955, the sewer company was acquired by the Perkasie Borough Authority who owned and operated the plant until 1973. Perkasie Borough and Sellersville Borough together formed the Pennridge Regional Waste Water Treatment Authority who purchased the treatment plant from PBA and began preparing for a regional waste water treatment plant.

PENNRIDGE WASTEWATER TREATMENT PLANT
| | |
| --- | --- |
| | |
| Sign at entrance to plant | Two trickling filters at the treatment plant. |
The Pennridge Wastewater Treatment Plant began full time operation in September 1975. At a cost of $6,000,000 it was built on the site of the old Perkasie treatment plant. The Pennridge plant provides advanced treatment and disinfection of wastewater to the East Branch of the Perkiomen Creek.
In 2000 the Pennridge Wastewater Treatment Plant serves the municipalities of Perkasie, Sellersville, and Telford Boroughs and Hilltown, Silverdale, and East Rockhill Townships .