Boats were available for hire and a steam excursion boat operated between the landing in Perkasie and the dam at Sellersville.

Lake Lenape - The Past

Lenape Park occupies the area that runs along the East Branch of the Perkiomen Creek. Part of Lake Lenape was originally a part of the privately owned Menlo Park.
In addition to boating the Lake Lenape area featured picnic areas, hillside rides, fishing, and great scenic views. The land of the east side of the creek was converted into a harness racing track with grandstand, and stables. From 1911 to 1916 the Bucks County Fair was held at the park. On opening days of the fair the local schools were closed and in the afternoon and children admitted free to the fair.
| | | |
| --- | --- | --- |
| | | |
| Lenape park near Walnut Street at the turn of the century. | | Row boats at Lake Lenape in the early 1900's. |
| | | |
| View of the bend between Perkasie and Sellersville circa 1906. This view is difficult to see today as the trees have grown significantly. | | View from the observatory looking down at the boats in Lake Lenape. |
| | | |
| Fishing in the creek 1897. | | Menlo path and toboggan track (at right). |
| | | |
| --- | --- | --- |
| | | |
| In 1897 the park boasted about "the first on land toboggan" in the area. | | This exciting ride used the natural land forms on the side of the hill. |
| | | |
| The mountain shutte was a popular water slide; a person sat on a sled with wheels and was propelled into the water. | | View of Lake Lenape at the turn of the century. |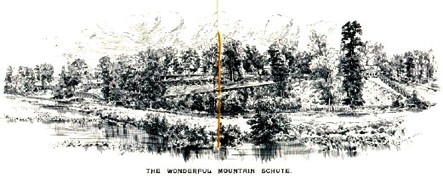 This illustration from the center of a Menlo Park brochure featured the land toboggan and mountain shutte.
A wreck of the toboggan was caused by several local juveniles who placed rocks on the track and caused the toboggan to jump off the tracks. Many patrons were injured and the toboggan saw declining use after this time. This along with a reduction in transportation services lead to a decline in the use of the amusement park.
In 1935, 32 acres of Menlo Park land was purchased by Perkasie Borough Council from Henry S. Wilson. This land ran from the top of the Menlo hill to Constitution Avenue and from Walnut Street to land owned by David Harr. The track of land was improved with WPA (Works Progress Administration) Labor. The tract was improved by dredging and widening the creek and placing an island between two footbridges (today commonly known as the twin bridges).
| | | |
| --- | --- | --- |
| | | |
| Warming shed in 1939. | | Boat landing in 1939, |